Competition in the solar installation market has been steadily increasing for a variety of reasons. As a result, lead generation for commercial solar projects has become more difficult.
Here, we will share some tips to make lead generation easier for your commercial solar EPC business.
Important factors to consider
Solar PV installation projects in commercial or industrial facilities are generally done by medium to large businesses. Often, the motivation behind such projects is financial. So, ROI becomes a very important factor in decision making.
With that in mind, let's look at important factors in commercial / industrial solar marketing.
B2B marketing approach
Since you are targeting businesses, you need to have a B2B marketing approach. Building and cultivating relationships is an important part in the B2B sales process. It also play a significant role in B2B marketing.
In the marketing process, a prospective customer interacts with your business instead of a sales rep. So in a sense your business is building a relationship with that person. You can use emails, social media, cold calls to build and cultivate this relationship with your brand.
If this prospect has a good relationship with your brand, he will come and knock on your door whenever he is ready to buy.
Competitive pricing
In case of commercial and industrial rooftop solar projects, the motivation is mostly financial. So pricing is going to be an important factor in decision making.
Quality and reliability of products and services
But pricing is not the only important factor. Quality and reliability of your services are equally important.
The importance of quality is even more pronounced in the case of industrial solar projects. The procurement teams for these businesses already have stringent quality control and vendor evaluation processes in place. Your products / services will need to pass through these processes when you sell to them.
But the reputation of your business in terms of quality and reliability will be reviewed even before they ask you for a quotation. Hence, marketing should also have similar focus on quality, reliability aspects.
Building a brand name
The reputation of your business in terms of quality, reliability and affordability is important to get new leads for your commercial solar business. That brings us to the branding part.
Use branding exercises to stress on these factors. If you are able to build a strong sense of trust around your brand, more than half of work in getting the order, is already done.
Online channels for commercial solar lead generation
Referrals
If you ask any successful solar installer about where they get most of their leads from, they would tell you – positive referrals from happy customers.
Referral is a very important lead generation channel, especially when your commercial solar business is at an early stage and you don't have a large marketing budget.
An effective way to get referrals, is to ask your customers to directly send emails to people in their network. You can do this when you complete a project with a customer.
Request your customer to put you in CC of all these referral emails. That way you can track the success rate of these emails and even take over the conversation if someone replies favorably.
You can incentivize these referrals by offering discounts on your future maintenance costs, whenever any referrals go through.
Testimonials
You should also use this opportunity to record a testimonial from this customer. Record a 3-5 minute video testimonial, where your customer speaks about the quality of your products and reliability of your services. Promote the testimonial videos on social media platforms.
Later on, you can even document the content from this video in a blog post or case study, to share on your website.
Presence on Google Maps and Google My Business
Referrals and testimonials will help you get seen in certain business networks. But to get more visibility, it is absolutely necessary to have a rich presence on Google search and maps.
You should update your details on 'Google My Business'. Also request your customers to review your business on Google.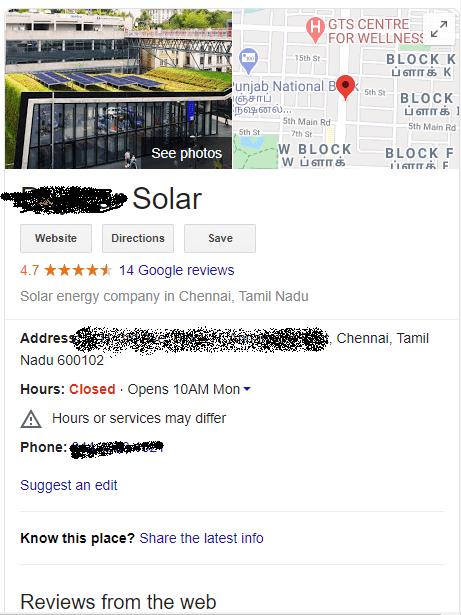 This is quite important for targeting small businesses and even residential property owners, who might not be on your radar otherwise. Whenever they decide to go for a solar PV installation, they are going to start with a Google search.
Business Directories
Similar to Google, people and businesses are also going to search on business directories like – Indiamart or JustDial.
Make sure that you have updated your profile on these platforms with accurate contact details, photos of your projects, photos of your office, team, complete address and testimonials from customers.
Google Ads
If you are operating in a locality with high competition, your business may not appear at the top of the Google search results. But you can still get over this problem with the help of 'Google search ads'.
But be careful of how you set up your ad campaign, otherwise you can lose a big chunk of your marketing budget on ads, without any real leads to show for it. Here are a few pointers –
Display your ads only on the 'Google search network'. For lead generation, you only want to target the people who are actively searching for commercial solar products and projects.
Target the searches coming from your local area. Refer to the following screenshot.
Target only search terms where you have a competitive advantage, for example – certain PV panel brands, opex model projects etc. If someone is already searching for those terms and you happen to offer those products/services, you have a high competitive advantage.
When you have a large enough traffic on your website, use Google analytics to build an audience of your website visitors and use it for a remarketing ad campaign.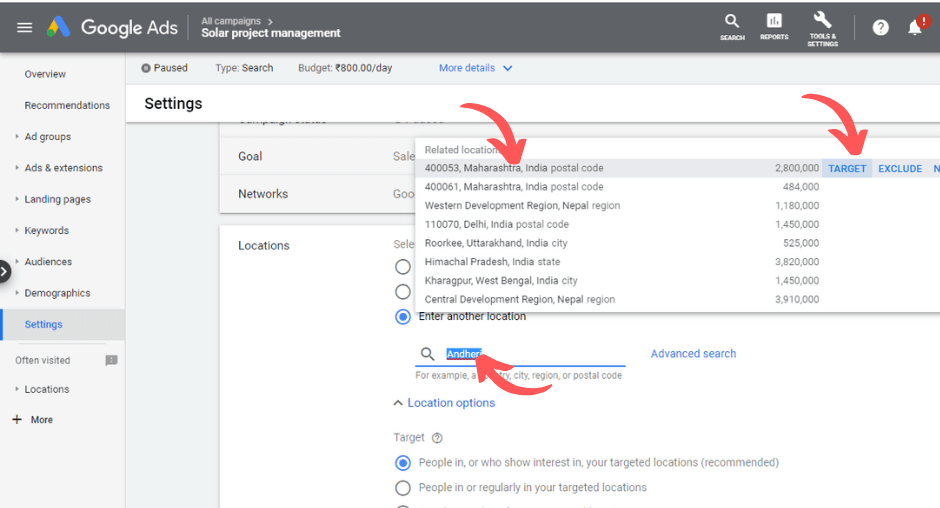 Cold email marketing
Cold email campaigns can be very effective for B2B lead generation. All your prospective customers have business email addresses. If you run your email campaigns correctly, you can get their attention using these business email accounts.
The first challenge is to reach inbox. On an average only 15-20% of marketing emails get opened. The main reason for this is – most of these emails never even reach inbox. They get filtered as spam or junk.
You can use a cold email automation tool to bypass the spam filters. More than 90% of your emails will land in inbox with the help of a cold email marketing tool.
The next challenge is to get them to open your email and act on it. Here are some pointers to achieve that –
Personalize your subject line. Mentioning the name or company name of your prospect, will drastically increase the chances of your email being opened. A mail merge tool connected to Gmail and Google sheets with help you to easily personalize your emails, by using the audience data from a spreadsheet to personalize your emails.
Subject line should either offer some value (discount, free licenses etc) or invoke curiosity (for example – How we got 1000+ leads for free last month).
When writing your cold emails, be cognizant of your audience, their interests. Create high quality digital content to stand out from competitors. Refer to these solar specific cold email templates as a starting point to create your own emails.
Your email text should not be longer than 5-6 lines. Most people are too busy to read a long email and it will get ignored. Use these cold email templates for reference, when writing your email copy. Additionally, make sure to avoid certain spam trigger words in your email, which can land your emails in spam.
Be clear in your approach and direct in your offering. Confusing or misleading your reader is not going to take you anywhere.
LinkedIn
Similar to emails, LinkedIn is also a potent platform for B2B marketing. Here are some of the things that you can do with LinkedIn –
Regularly post updates of your projects, customer testimonials and announcements, from your company page.
Use the company page to interact with local businesses. Remember you are building a relationship between your business brand and the prospects.
Use targeted LinkedIn ads to reach specific business networks in your target market. LinkedIn ads are more expensive than Google ads. But they allow you to target specific industries, companies, locations. With a little trial and error you can find a sweet spot for your ads.
Offline channels
You might say that customer referral is actually part of offline lead generation. But we put it under the online lead generation category, since we recommend email referrals which can be tracked and lead generation can be measured online.
Now let's look at some other offline channels of commercial solar lead generation.
Trade shows
Trade shows and conferences are great places to meet and interact with business owners, decision makers from your target industry.
Partnerships with other local contractors
We also recommend that you tie up with other contractors in your area who provide complimentary services like – construction, waterproofing, electrical works etc.
When their customers start looking for solar installation services, they can pass on these leads to you in exchange for a commission.