There is already heavy competition in the solar installation industry, putting a lot of pressure on the overall margins. Under such circumstances, every part of your business needs to be efficient – including sales.
You can make your sales process efficient by following certain best practices for lead management. The very first step for setting up a lead management workflow for your solar business it to create a well-defined sales process.
Typical solar sales process
Here we will outline a typical sales process, to be used as a template. You can use it as a starting point and modify it as per your business requirement to create a well-defined solar lead management process.
There are 3 important steps or stages in this solar sales process –
1. Gather customer & site details
When you get a new qualified lead, your sales rep will call/meet with the customer and if possible visit the site – their home/office. Otherwise, ask the customer to send the accurate (this is important) location coordinates of the installation site.
During this site survey / customer visit, the following important information needs to be gathered –
✔ Customer Information – Name, Company Name, Address, Contact Number etc.
✔ Site Information – Latitude & Longitude, Roof height, Free Space, Structure Type (RCC / Metal sheet) etc.
✔ Electrical Infrastructure – Sanctioned load, Connection type (single / 3 phase), Installed Capacity and Voltage of Transformers, Consumption load
✔ Additional Documents – Recent electricity bills, Single line diagram, Rooftop sketch, Site photos
✔ Financial Information – Customer's requirements, budget, financing needs etc.
2. Engineering design & commercial details
Customer requirements and site details will be used for technical analysis for new solar PV installation, using PV design/simulation software. As per the system design, panels, inverters, mounting structures, and other materials will be decided.
Based on the choice of material, logistics and labor requirements, the project cost would be estimated. Accordingly, you can create a commercial offer for the customer.
3. Create & send a proposal
Once your technical and commercial offer details are ready you can put them in your standard proposal template for solar projects to create a new quotation. Then email this proposal to your prospect. You can use any one of these email templates to write your proposal email.
After you send this proposal, there may be some back and forth, negotiations and you may need to do some follow ups at regular intervals. This communication cycle is also important and should feature in our solar lead management template.
Solar Lead Management Excel Template
Considering the typical sales process outlined above, we have created an Excel template for solar lead management.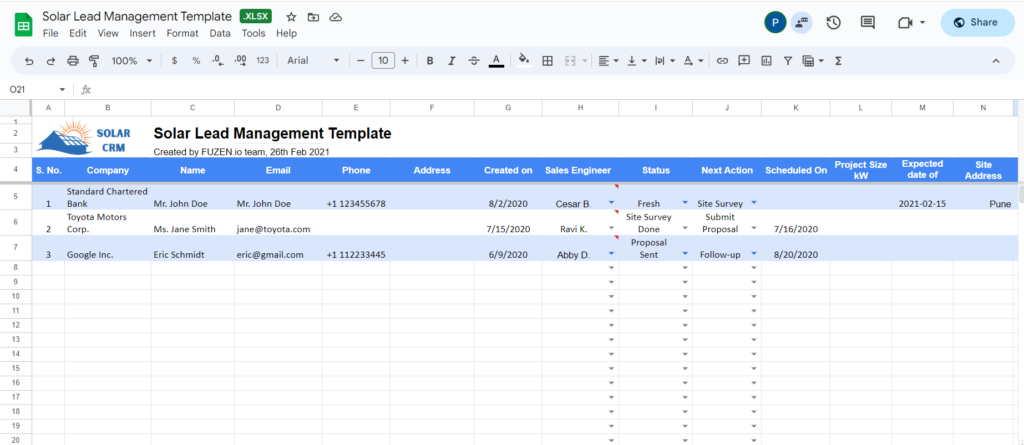 You can download this Excel template and use it as a starting point. Modify the spreadsheet as per your own sales process. You can also check the Google Spreadsheet version of this template.
Connecting your Excel sheets to a solar CRM
Most people prefer to work with spreadsheets because of their simplicity and flexibility. It is very easy to set up a solar lead management process in Excel or Google spreadsheet, than it is in a traditional CRM.
That's why most solar installers tend to manage their operations with emails and spreadsheet, in the early stages of the business. But as your sales grow, you will need a CRM platform for efficient sales tracking and process automation.
So at this time do you part ways from your Excel based lead management template? OR do you find a CRM that can work with your spreadsheets?
Solar CRM integrates with Google sheets, drive, forms and Gmail. To provide you all the benefits of a smooth CRM system while also ensuring that you get the same flexibility that you had with your Excel sheets. It is also connected to a mobile friendly site survey form to facilitate easily collection of customer's documents, site photos, electricity bills and site measurements.
A major benefit of using a spreadsheet based system to manage your solar sales is that it can easily integrate with other parts of your business – like, project management, cost control etc. For example, Solar CRM connects readily with this solar project management solution, also built on top of Google Drive.