Before we look at any tips for increasing the sales for your solar installation business, it's important to realize there are two important parts to your sales process.
Lead generation
Managing the solar sales funnel
Your final sales number are combined outcome of these two steps.
So, let's dive into the core.
Table of Content
1. A typical solar sales funnel
2. Sales are the product of lead generation plus sales process
3. How to increase your solar sales?
3.1. Getting more leads
3.1.1. Email marketing
3.1.2. Follow-up
3.1.3. Yellow pages and business listings
3.1.4. Targeted Google Ads
3.1.5. Social Media Channels
3.1.6. Website
3.1.7. Offline lead generation
3.2. Converting more leads
3.2.1. Screen your leads carefully
3.2.2. Don't delay proposals
3.2.3. Use a site survey app
3.2.4. Educational material for each stage in the funnel
3.2.5. Use sales process automation
A typical solar sales funnel
A typical sales funnel has four stages:
Awareness >> Interest >> Consideration >> Sale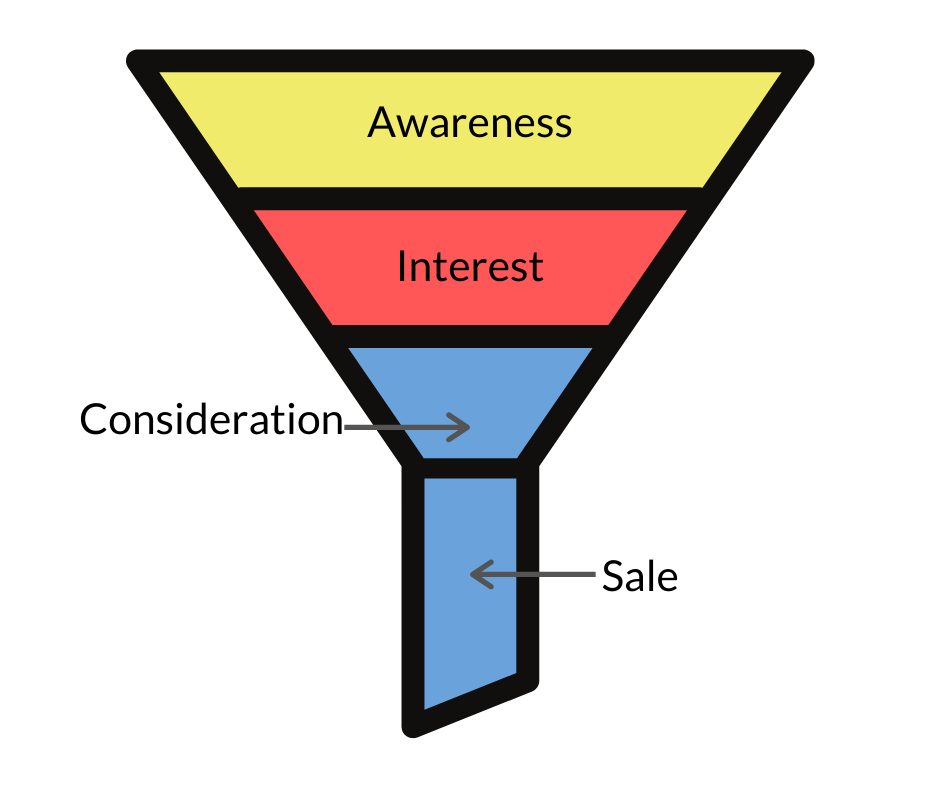 Your solar sales process must also go through these 4 stages. At each of these stages, a buyer gradually learns about your offering. At 'awareness' he has just discovered the most basic details of your solar PV offering.
Then over time he learns the value of solar energy, goes to your website and asks for pricing – going to the next 'interested' stage in the funnel.
When you provide a proposal to the buyer, he 'considers' it before the 'actual sale' can happen.
At all of thee stages, the buyer is looking for different information about your offering. Therefore how you manage this funnel directly determines how a prospective buyer will understand and perceive your offering.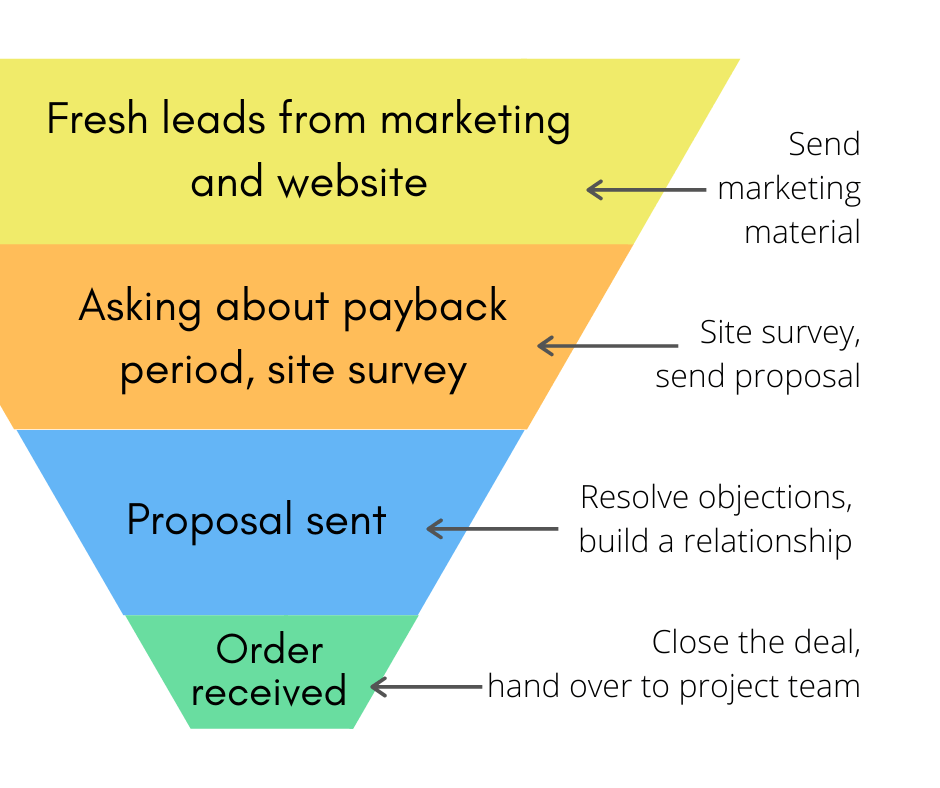 That's why it is important to create a sales process which provides due attention to each stage in the solar sales funnel.
Sales are the product of lead generation plus sales process
Your final solar sales number for a quarter are directly proportional to –
How many leads you pulled in your sales funnel
How efficiently your converted those leads
In other words, you can increase your solar sales by either investing more in marketing and lead generation, or by improving the conversion rate of those leads with a more efficient sales process.
How to increase your solar sales?
Now let's look at how we can do both.
Getting more leads
Solar sales tips for adding more leads to your funnel.
1. Email marketing
Email marketing is a very cost effective channel to get new B2B leads. It is quite under utilized in the solar EPC industry. You can use cold email marketing tools, to reach more people and get better responses for your B2B email campaigns.
Use these solar specific email templates to write an engaging email copy. Use a mail merge tool connected to spreadsheets for sending highly personalized email marketing campaigns.
2. Follow-up
Following up with leads in a timely manner is crucial for solar sales. When it comes to email follow-ups, there are a few best practices to keep in mind:
Respond promptly: Ideally, you should respond to a lead within 24 hours of receiving their inquiry. This shows that you value their interest in your business and are eager to provide them with the information they need.
Personalize your emails: Avoid sending generic, automated emails. Instead, address the lead by name and include specific details about their inquiry or the information they provided.
Provide value: In your follow-up emails, make sure to provide the lead with relevant information and resources that can help them make an informed decision. This can include information about the benefits of solar energy, case studies or testimonials from satisfied customers, and details about your installation process.
Keep it brief: While it's important to provide valuable information, keep your emails concise and to the point. Most people don't have the time or patience to read lengthy emails, so focus on the most important details.
Use a clear call-to-action: Be clear about the next steps the lead should take, whether that's scheduling a consultation or requesting a quote. Make it easy for them to take action by including links or contact information.
Don't annoy the user: It is essential to keep a gap of at least 4-5 days between each follow-up email. Don't send more than 5 follow-up emails, that will annoy the viewer and you get blocked from their list forever.
3. Yellow pages and business listings
Maintain reach presence on platforms like – Google Maps, Google My Business. Keep you profile updated with photos, testimonials, contact details etc. Make it easier for prospects to find you and contact you.
List your business in local yellow pages or trade portals like Indiamart or JustDial etc.
4. Targeted Google Ads
Use Google Ads with geographic targeting. Target the people from your city, who are searching for solar PV or related solutions.
Also, utilize ad extensions and boost the chance of getting more clicks on your ad.
5. Social Media Channels
Use different social media channels depending on your target customers. LinkedIn is excellent for B2B lead generation. Whereas facebook allows you to target consumers in your area, with specific interests related to solar PV and renewable energy.
Use social media automation tools to post regularly on your LinkedIn and Facebook account. This helps to organically build up a following for your company on social media channels.
6. Website
Establish an online presence by creating a website. A well-designed and attractive website is essential for increasing solar sales.
It is an online version of your business as well as the first impression of your business.
So, make sure to provide relevant information about your products, prices, customer reviews, and any other details that can be beneficial to potential clients.
Also, ensure that your website is user-friendly and easy to navigate. This will simplify and speed up the process for customers to find the information they need.
Additionally, improve your website's SEO strategy to make it easier for potential customers to find your company online.
7. Offline lead generation
But with all this focus on online lead generation, don't ignore offline lead generation channels like – trade shows and partnerships with local contractors.
Trade shows, for example, can be great opportunities to meet potential customers face-to-face and showcase your products or services. You can collect contact information from attendees and follow up with them after the event to continue building the relationship.
Local partnerships with contractors can also be valuable, as they can refer their own clients to your business.
Converting more leads
Tips to increase the conversion ratio for your solar sales.
1. Screen your leads carefully
There is a lot of effort involved in the solar sales process – doing site surveys, preliminary engineering, commercial discussions can take up a lot of time, straining your valuable sales resources.
Understandably, it is best to invest all those efforts very selectively. If a new lead in only interested in understanding high level benefits of solar PV, it would be a big waste of time to perform site survey and engineering design for him.
Therefore it is important to carefully screen your leads before putting them in the sales funnel.
2. Don't delay proposals
There is a lot of competition in the solar installation business. It's quite normal that a lead will speak with multiple installers before buying from someone.
Any delay in responding to a lead or sending proposal can result in losing him to the competition. Therefore it should be a KPI of your solar sales process to minimize the time gap between customer visit and proposal submission. You can help your sales team to stay on top of the game by sending them daily "Todo List" emails, to ensure timely actions.
You can also speed up the proposal submissions by connecting a standardized proposal template to your CRM software. Use an automation workflow to insert the customer details from CRM into a standard template. This way you can create and submit proposals in a matter of minutes.
Further speed up the process by using a standardized proposal email template to share the proposal with your customers within seconds.
3. Use a site survey app
Quite often proposals get delayed because of communication gaps. In absence of a direct communication channel between sales and engineering teams, site survey reports are handed over to engineering after a time gap.
Correspondingly, subsequent engineering design and proposal submission get delayed.
Minimize this time gap with a site survey app to directly connect engineering and sales teams. Basically it should come with a mobile friendly site survey form which can be used from the field to send measurements to engineering team.
4. Educational material for each stage in the funnel
Use well designed educational content to drive your leads deeper in the sales funnel. At the marketing stage, give them articles and videos about economic and environmental benefits of solar PV.
If they are aware of the benefits and considering to buy, given them detailed comparison sheets of different panels, inverters available with you.
Your sales proposal format should also be simple enough to understand – so you don't have to spend a lot of time in explaining them everything.
5. Use sales process automation
A typical solar sales process moves through different blocks –
Lead in CRM >> Site surveys >> Engineering Design >> Proposal >> Order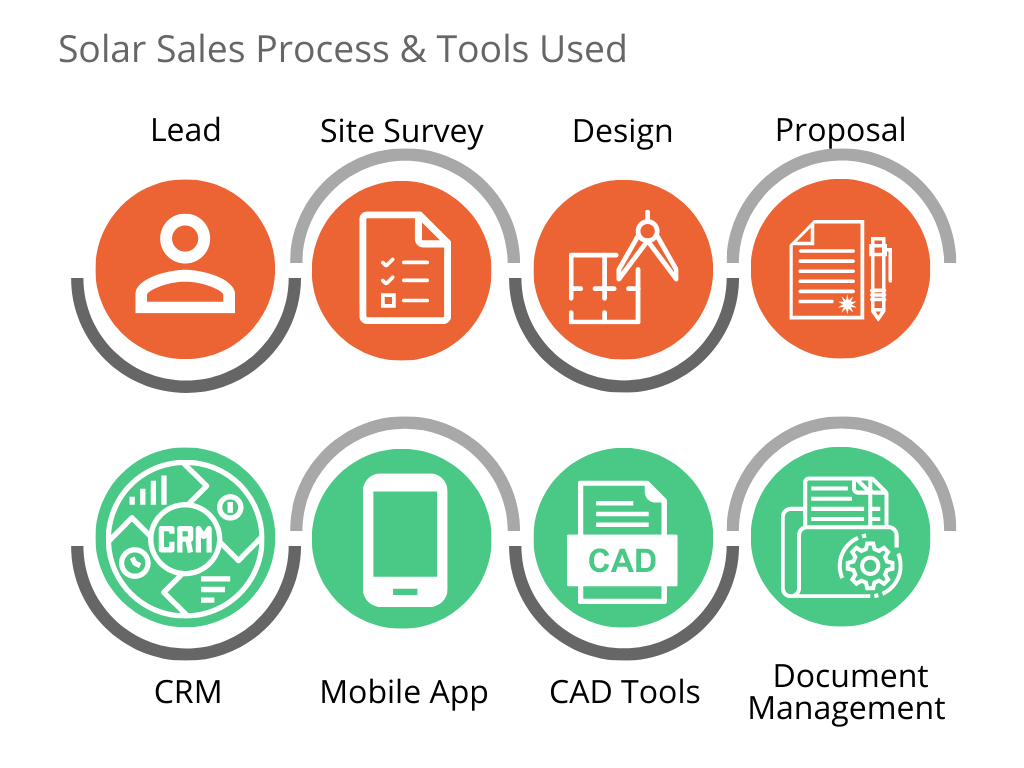 Information in all these blocks in managed in different silos – CRM, Engineering Document Management System, emails, site survey reports etc. These silos kill the efficiency of your lead management process.
Prevent this loss of efficiency by connecting all the dots of your sales process. Use a workflow automation tool to connect your solar CRM with site survey app, documentation, emails etc.
When you use a CRM platform to manage your solar sales process, all your important customer information, documents and files are centralized in one single place. Then you have the option to connect your CRM to a project management solution, which will allow you to readily pass on all the customer information to project execution team whenever you get an order.
In fact, one of the important features for a solar CRM should be connectivity with other tools. Solar CRM provides a connected platform to track and manage your solar sales process. You can try all these solar sales tips in Solar CRM for free.