Before you can make a proposal for a solar installation project, you need to know the following things –
how much shadow free space exists on the site,
how much load can be handled by the roof,
if there is sufficient clearance for maintenance in future,
what is average electricity consumption,
how much power load is sanctioned by distribution company
This data is needed for technical analysis of the solar PV installation and for preparing a commercial proposal.
That's why solar installers perform site surveys for potential customers even before getting the order. The main objectives of these site surveys are to get the following details –
Customer information
Customer's name / company name
Contact details – address, email, phone number
Site information
Latitude and longitude
Roof height (or number of floors)
Free space available on roof
Required installation – roof / ground mounted
Roof structure – RCC, metal sheet
Roof type – plane / inclined (with tilt angle)
Electrical information
Connection type – single phase / 3 phase
Sanctioned electricity load (kVA)
Connected load
Installed capacity and voltage of transformers
Low and medium voltage level values
Electricity consumption load (min / average / maximum)
Annual electricity consumption (kWh)
Additional documents to be attached
Recent electricity bills from the customer
Single line diagram of electricity distribution
Simple sketch of the site
Site photos taken from different angles for complete clarity
A standardized solar site survey form should be used to capture this information and convey it to the rest of the team.
Need for a mobile friendly site survey app
Typically, these site surveys are done by the sales team. They gather the required data and documents, as per the site survey form. Then they send this information to the engineering and project execution teams, to create and submit a proposal.
Often, people use their phones to click pictures of the site, electricity bills, site sketch and measurements. Then they send these pictures and documents to the rest of them team via emails, shared folders or WhatsApp.
While it's quite convenient and simple to use email or WhatsApp, there are a few problems with this mechanism –
1. No central database for site surveys
The site survey data doesn't get recorded in a central database. So it's not searchable. Most of it isn't even properly organized in folders.
Imagine that you did a site survey data for a customer and he asked you to wait for 6 months until he had the budget. So after 6 months when you need to refer to the site survey documents, you will need to dig through hundreds of whatsapp messages and emails to get to them.
2. Possible lag in communication
Sometimes, the sales reps collect site survey measurements and documents from site. But they share it with others only after going back home or to the office and getting access to a laptop.
This causes a delay in the preparing and sending the proposal. If the proposal gets delayed by a lot, it creates a window for your competitor to steal the customer away from you.
3. No site survey checklist
There is no checklist on whatsapp, shared folders or emails for the data to be collected. So there is no guarantee that all the necessary data will always be picked up. There is a real risk when you send a newly hired team member to do a site survey, that he may miss out on a few things.
Solution: a solar site survey app
All of these problems can be addressed by a mobile friendly solar site survey app by –
Connecting the site survey data to a central online database
Removing any lag in communication
Serving as a solar site survey checklist
Automatically creating and sending site survey reports in a format that is easy to understand
With these challenges in mind, let's look as what should be the key features for a solar site survey app.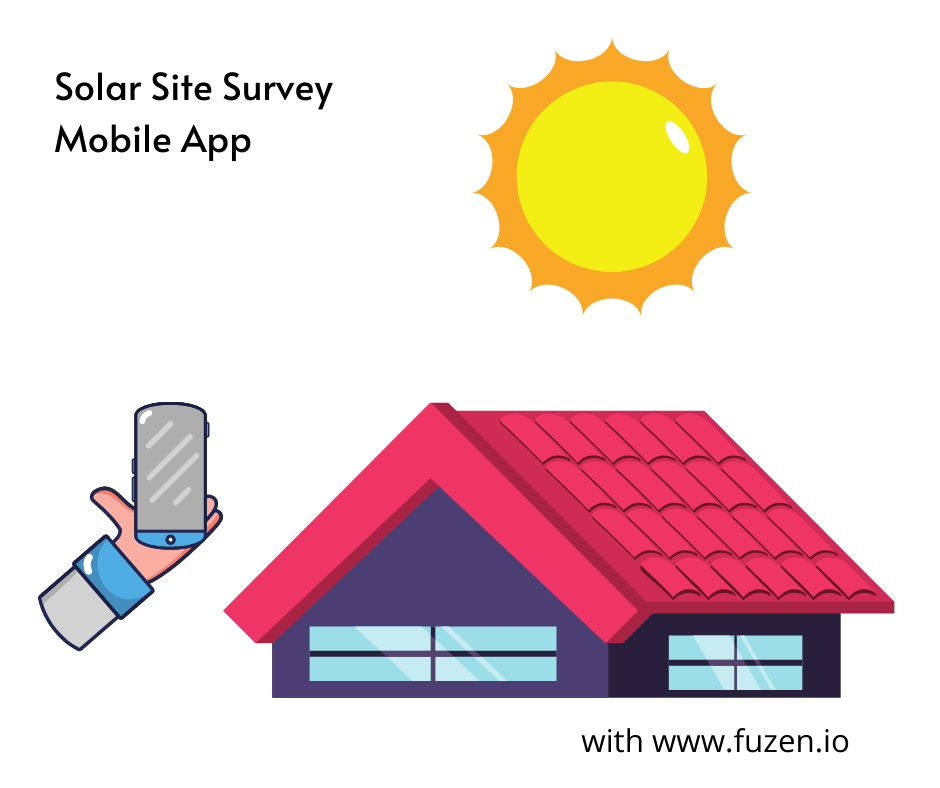 Key features
Mobile friendly UI
Site surveys are done on rooftops and other sites where only mobile devices can be used to capture data. Therefore any app used for solar site survey should be mobile friendly.
Lightweight
Some solar project sites may not have a very high network connectivity. Therefore the app should be lightweight. So that it can operate even with low internet bandwidth.
Connected to CRM
Site survey data is primarily used in the sales process. Therefore, the site survey app should be directly connected to the solar CRM software, so that all the site survey details are readily accessible for creating the sales proposal.
Solar CRM sends a daily todo list email to everyone on your sales team, highlighting the customer visits and site surveys pending at their end. The email comes with a simple link from where they can upload customer information and collected documents.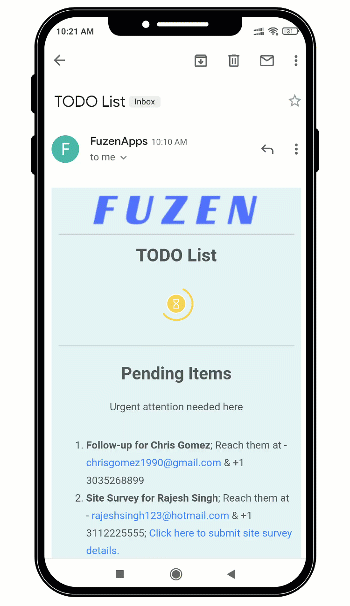 Solar CRM is connected to a mobile friendly site survey form. So site survey measurements, photos, updates sent by your sales team will be immediately updated in your solar CRM dashboard.
Email integration
Solar installation companies should always try to minimize the time taken between site survey and proposal submission. A quick proposal submission to the customer minimizes the chances of any other competitor getting in your way, while also creating a positive impression of how efficiently you run your business.
Therefore, your site survey tools should be integrated with email. So that as soon as the site survey is done, email alerts can be sent to the rest of your team with site survey data.
Configurable site survey form
Each solar installer company has their own format for site survey form. They should be able to configure their own formats within the site survey app. The site survey forms should be completely configurable and should allow users to easily add / edit / remove fields from the form.
Configurable workflows
Companies even have their own unique sales and site survey processes. One should be able to configure those processes within the app, so that the whole team doesn't need to change their way of working.
Solar CRM integrated with Site Survey Form
With the intention of answering all of the challenges discussed so far, we have developed a dedicated CRM software for solar installers.
This CRM also takes care of the site survey and engineering design processes which are integral to the solar project sales process.
Our solar CRM is directly connected to configurable forms for site survey and engineering design.
Email integration enables real time email alerts for data captured in site survey and engineering design.
Additionally, the sales workflows are fully configurable, so that your sales process can be directly digitized on solar crm platform.