A sales funnel is a visual tool for monitoring and managing your solar sales process. It also helps in finding out and removing the bottlenecks in your sales pipeline – to grow your overall sales for solar projects.
A typical sales funnel has four stages:
Awareness >> Interest >> Consideration >> Sale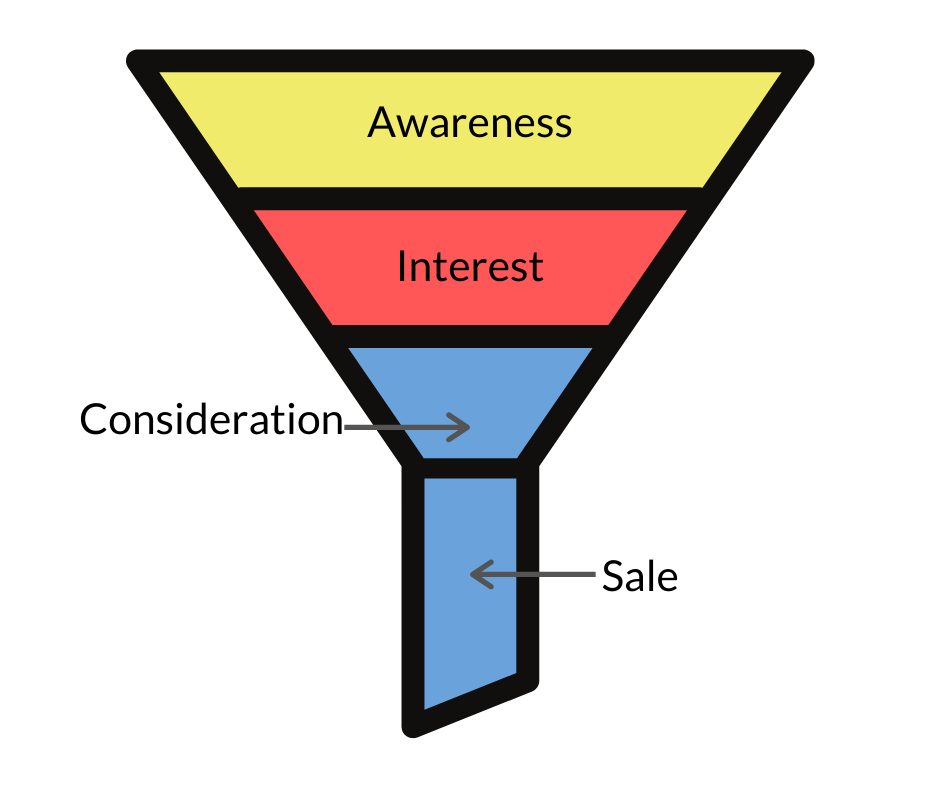 Table of content
1. Why you need a sales process for solar
2. Growing your sales
2.1 Growing the sales funnel
2.2 Converting more leads
3. Tools to manage your solar sales funnel
3.1 Tools to expand sales funnel
3.2 Tools to improve sales conversions
Why you need a sales process for solar?
Sales process for a solar installation business is also similarly complex where any buyer goes through different stages, having different levels of interest in the offered solution.
At each of these stages, buyer's knowledge level is also different. At 'awareness' he has just discovered the most basic details of your solar PV offering.
Then over time he learns the value of solar energy, goes to your website and asks for pricing – going to the next 'interested' stage in the funnel.
When you provide a proposal to the buyer, he 'considers' it before the 'actual sale' can happen.
At all of these stages, the buyer is looking for different information about your offering.
Stage
Questions on a buyer's mind
Awareness
What you are selling?
Typical size of your projects?
Is this installation even possible on my rooftop?
What are benefits?
Interest
How much does this cost?
What will be the payback period?
Do you also provide maintenance?
Which panels, inverters do you recommend?
Consideration
How much power would be generated?
How much roof area would be covered?
How soon can you finish the installation?
What would be the payment terms?
Do you provide financing?
Do I know any of your previous customers?
Sale
Guarantee / Warranty terms
Delivery and installation schedule
Maintenance contract
You need to nurture each lead in a different way, depending on which stage they are at. It is therefore necessary to track your sales process using a solar sales funnel. This sales funnel should clearly classify your leads into different stages in the solar sales process.
Consider this example of a solar sales funnel –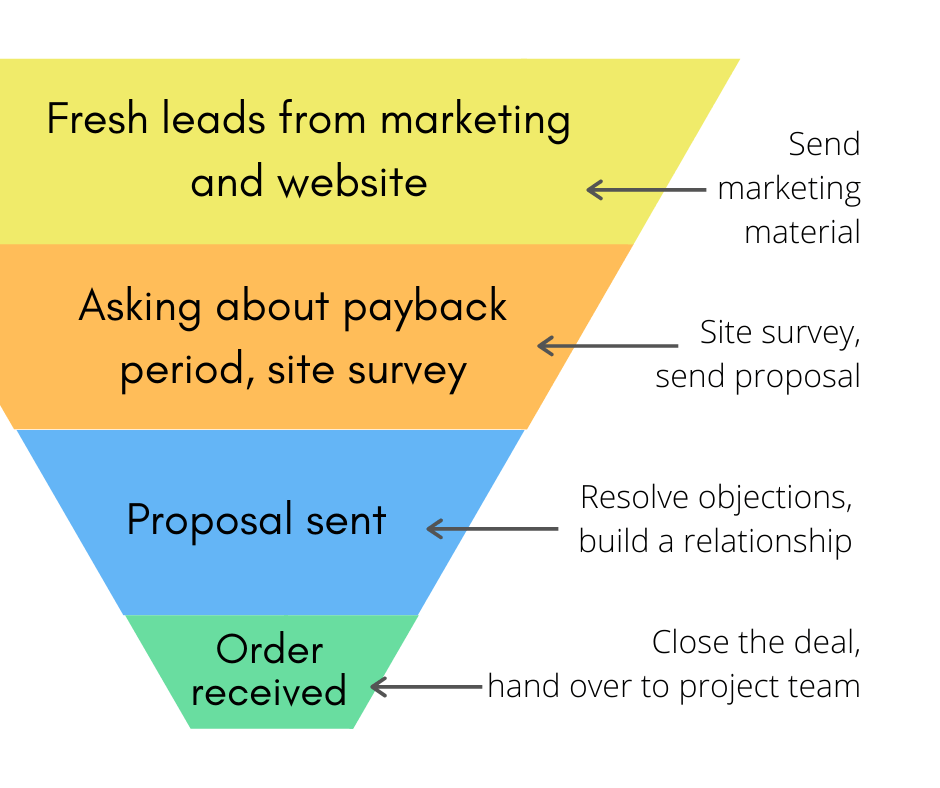 Awareness – all fresh leads coming from website, Facebook / Google ads, referrals, email marketing etc.
Provide them standard marketing material related to benefits of solar PV, information on net metering, case studies / customer testimonials which talk about savings.
Interest – leads asking about payback period, kW capacity possible for their rooftop area
Schedule a site visit, followed by preliminary engineering, cost estimate and commercial proposal
Consideration – wherever proposal has been sent
Work closely with them to resolve their objections regarding capacity, payment terms, installation schedule, net metering etc. Establish trust and credibility to win over competition.
Sale – customer has given you the order
Now the only thing to do responsibly is to properly hand over the customer account to a project execution team
As you can see all the important actions in this sales process are directly dependent on the different stages in solar sales funnel. That's why tracking your leads properly in a funnel becomes important.
Growing your sales
Important objective for any business is to make sales and grow the top line. That means pushing more and more leads through the final stage in your solar sales funnel.
This is possible in two ways –
Growing the sales funnel
By getting more leads at the top of your funnel. This requires more efforts on the marketing front, possibly even higher marketing spend.
However, here are some cost-effective ways that can help you attract quality leads to your funnel.
Provide valuable content: One of the best ways to attract and engage leads is by providing valuable content. This can come in many forms, such as blog posts, videos, whitepapers, and case studies. By creating informative content that addresses the needs and pain points of your target audience, you can showcase your expertise in the solar field and demonstrate the benefits of solar energy.
Offer consultations or assessments: Another effective way to attract leads is by offering free consultations or assessments. This gives potential customers a chance to learn more about your products and services and see how solar can benefit them. By offering a free consultation, you're providing value upfront and building trust with potential customers.
Use lead magnets: Lead magnets like eBooks, checklists, or templates. These can incentivize prospects to provide their contact information and enter your sales funnel. Once you have their information, you can follow up with them via email or phone to nurture the relationship and move them toward a sale.
Converting more leads
Converting a higher percentage of leads to orders requires better management of your sales process. For example, timely submission of proposal, better relationship management, timely follow ups with the customer.
If you do this properly, you can increase your sales without much increase in the costs. So you can increase your top-line as well as bottom-line with this approach.
Practically, speaking you need to use both approaches to scale up your solar installation business.
Tools to manage your solar sales funnel
Now let's look at some useful tools to manage and grow the sales funnel for your solar installation business.
Tools to expand sales funnel
Adding more leads to your sales funnel is all about marketing. We have written in great detail about online marketing tools useful for commercial solar and residential solar lead generation.
Here's a list of all online marketing tools useful for a solar business.
Google Maps + Google My Business – to get inbound inquiries from your local area
Listings in local business directories
Online ads – regular targeted ads and remarketing ads
Email marketing – to reach regular subscribers
Cold email outreach – to reach new prospects
Social media channels – facebook, linkedin, youtube and pinterest
Tools to improve sales conversions
The conversion rate in your solar sales funnel highly depends on how well you manage your sales process.
Some important factors are –
How much time do you take for a site survey and proposal submission?
Are the proposals easy to understand and how clearly do they communicate technical details?
How much time your sales engineer has spent with the customer to build a relationship and trust?
Is your sales team following up regularly with the customer?
You can use tools like – CRM, sales tracking spreadsheet, site survey form, proposal and document management solution for facilitating the sales process.
But for it to be truly efficient and effective, all of your sales management tools must be connected to each other.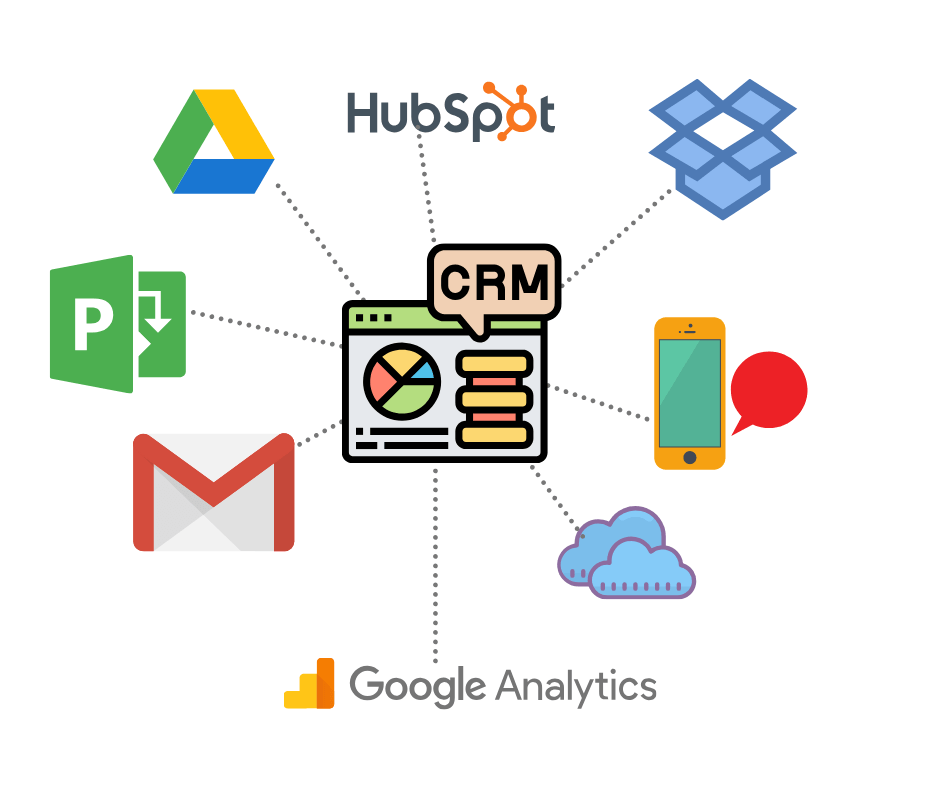 For example – usually sales engineers spend a lot of their time in managing documentation, photos and site survey data gathered from customers.
But this process can be automated by connecting the site survey app to the CRM software. In that case your sales engineers would not spend their time in creating site survey reports. Instead, they can spend more time with the customers, building better trust to close the deal.
You can also speed up proposal submissions by using a standard proposal template connected to the CRM, to create project proposals in a matter of minutes.
The overall productivity of your sales process can be boosted with more such automated workflows for solar sales. For the things that cannot be automated (for example – customer visits etc.), send an automated daily todo list email alert to your team. Help them to not miss out any important actions pending at their end.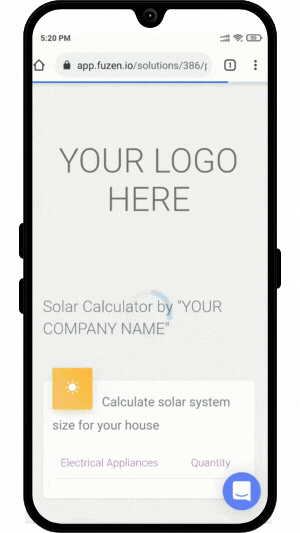 For this kind of connectivity between your sales management tools you can either use a platform like zapier to connect all tools manually OR you can get a readily built, pre-configured solar sales tracking solution from Solar CRM.
Solar CRM is built within Google Drive by connecting simple Google Drive apps like – spreadsheets, forms, folders, Gmail, etc. It provides user friendly interfaces as well as seamlessly connected automation workflows.
You can take a trial from this link to manage and improve your solar sales funnel.