Solar sales proposal templates help you to automate the creation, approval and sending of proposals to your client.
Table Of Contents
1. Why to use a solar proposal template
2. Typical contents for solar proposal
2.1 Company profile
2.2 Project or requirement details
2.3 Solution Details
2.4 Assumptions
2.5 Financial analysis
2.6 Terms & conditions
2.7 Contact details
3. Solar proposal templates
3.1 Residential solar proposal templates
3.2 Commercial solar proposal templates
4. Automate solar project quotations
Why to use a solar proposal template
The typical sales process for a solar installation business is usually quite complex, involving site surveys, a lot of documentation and preliminary engineering. Understandably, it consumes much of time and effort of your sales reps and puts a lot of strain on them.
The amount of work involved in the solar sales process also limits the number of leads that you can work with in your sales pipeline.
One way to increase the bandwidth of your sales channel is to hire more sales people. But a cheaper, quicker and more scalable solution is to use automation for solar sales process.
You can use a software to automate the proposal creation and submission using a standard template. This software will plug the data from your solar CRM software into a standard proposal template, to create solar project quotation in seconds.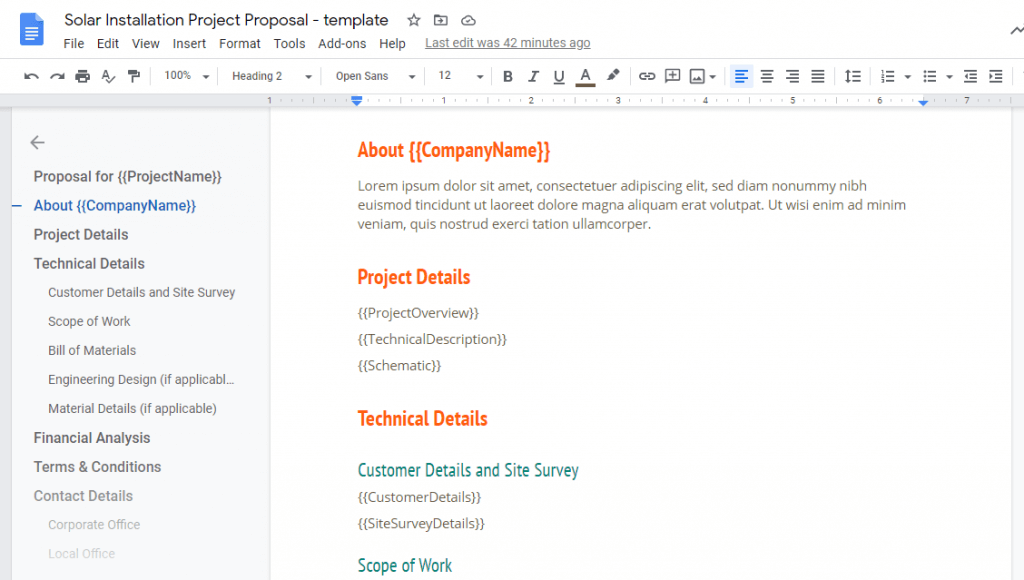 Typical contents for solar sales proposal
Now let's look at the typical building blocks of an impactful solar sales proposal template.
Company profile
Use the company profile section to establish credibility and trust around your business. If your business has been operational for a while, talk about your experience, past projects, recognition over the years.
However, if you are a new business, you can mention how your business is growing fast, catering to new happy customers each month.
Focus on your strengths to build trust with the customer.
Project or requirement details
Your proposal should start with the details of the proposed solar project. Specify your understanding of the requirements given to you by the customer.
This way you will confirm that you have correctly captured the customer requirements and accordingly proposed a solution. If there is ANY gap between customer's expectations and your proposal, it can be identified and removed early on.
Solution details
This is one of the most important parts of a proposal, capturing all technical details of the proposed solar PV installation. It should cover details like –
Customer requirements and site details captured in site survey
Scope of work – all estimated activities
Project schedule
Bill of materials (BOM)
Preliminary solar PV design (if applicable)
Simple sketch, schematic of the proposed installation
Details of important material items – PV panels, inverter etc.
Use this section to get the technical approval from your customer. This section should be very detailed in case of larger projects where the technical proposal is reviewed by customer's engineer. A detailed technical proposal will help in establishing your credibility on the technical side.
When you are proposing for smaller residential solar projects, you need to make this section easy to understand to a home owner, rather than making it very detailed.
Assumptions
If you have made any assumptions at the time of making this proposal it is better to clearly state them as such. Your customer should also understand those assumptions and sign off on them.
This will help you avoid any misunderstanding and disputes later on.
Financial analysis
The detailed pricing for all materials, installation work and any other services should be listed in this section.
Use this space to provide a basic return on investment (ROI) analysis for the customer. This is especially important to convince home owners who may not do an ROI analysis on their own.
Terms & conditions
Details of contract, guarantee / warranty, payment terms, taxes, duties, freight charges should be covered in this section, if not already covered in financials.
Use this section to legally safeguard your proposal with following clauses – limitation of liability, indemnification, insurance, force majeure, arbitration etc. When you create a proposal template for your solar projects, get the standard terms and conditions reviewed by your lawyers.
Contact details
Provide contact details for sales office and head office of your company.
Solar proposal templates
Here are some standardized solar sales proposal templates for different types of projects. They are available in – Google Doc, MS Word or PDF formats. You can download these sales proposal template PDF for free.
You can also modify these templates for your own business using our solar CRM platform.
Proposal templates for residential solar projects
Commercial solar project proposal templates
Free template for customization
Download this editable template in Word or Google Doc format. Make changes to it to add your company information, logo etc. Then use this template to automate quotations with a solar proposal software.
Get it in Google Drive
Download as a MS Word file
Download quotation template PDF file
Automate solar project quotations
You can use a standardized quotation template to easily automate solar project quotes. The important part of this automation will be a database of all information collected from the site survey form – site photos, measurements, budget, requirements, electricity consumption etc.
When you have all this data available in your CRM or in a spreadsheet, you can then use a script or some other automation workflow to create a project quote by plugging the prospect data into your proposal template.
Solar CRM offers you a CRM software customized for solar projects. Solar CRM is connected to a flexible and easily configurable database to gather all the important inputs needed for a solar project proposal. This CRM also comes with project proposal templates that can be easily customized.
When you manage your sales process in this CRM, you have all the important information, files, documents centralized on a single platform. You can also integrate the CRM dashboard with this solar project management solution to easily move your customer data to execution team, once you start the project.
When you want to create a project quote for a customer, Solar CRM will plug the prospect information into your customized proposal template. You can then email the solar quotation PDF directly from this CRM dashboard. These email templates will help you in writing a good proposal email.
This solar CRM is available for a free trial. It doesn't require any credit cards. Click here to start your 7 day free trial.