Solar PV installation projects are very diverse in terms of their scale. Utility solar farms can go up to GW-level capacities, while residential rooftop installations are typically less than 10-15 kW.
Large-scale utility solar projects are often managed with a complex ERP solution. But the same solar ERP software may not be suitable for simpler, fast-tracked residential solar projects.
Instead, simple Google Drive apps can be integrated and customized as ERP software for smaller and simpler rooftop solar projects. Let's see how to do that.
Table of content
1. General expectations from a solar ERP software
1.1. Merging different business processes
1.2. Connecting the team
1.3. Tracking of material, labor and cash flow
1.4. Simple UI
1.5. Easy access
2. Using Google Drive with customized workflows
2.1. Simple light weight UI
2.2. Reliable accessibility
2.3. Built for collaboration
2.4. Customized workflows & integration
3. Customized Solar ERP Software
3.1. Online marketing for Solar EPC
3.2. Sales CRM
3.3. Solar Project Management
3.4. Material Tracking and Procurement Management
General expectations from a solar ERP software
Let us first examine what smaller solar installers expect from basic ERP software to manage their rooftop solar business.
Merging different business processes
By definition, ERP is a resource management solution. In the context of a rooftop solar business, you want to manage the resources flowing through different business processes – ideally by connecting those processes together.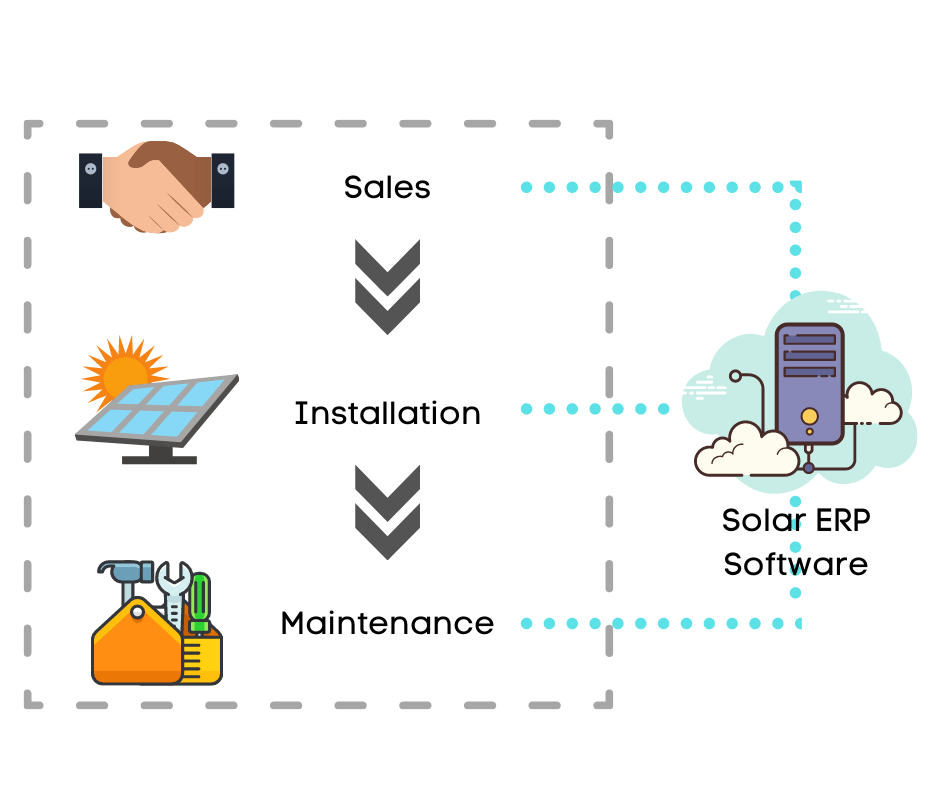 The main processes in any solar business are – sales >> project execution >> maintenance. Project execution is the most resource-intensive and complex process.
Solar ERP software should be well capable of connecting these processes together with customized workflows.
Requirement: automating and interconnecting multiple business processes with customized workflows
Connecting the team
Any solar business is operated by a team of salespeople, design engineers, project managers, installation engineers, store managers, purchase managers, etc.
Everyone's work is interdependent on each other. An ERP solution must enable them to easily communicate and collaborate with each other.
These team members are usually working from different locations. The site engineers and project managers spend most of their time on site. They need mobile-friendly solutions to connect with the rest of the team, even from the site.
Requirement: cloud based collaboration and communication tools, mobile friendly app
Tracking of material, labor, and cash flow
The main resources in a solar installation business are – material, labor, and cash flow. Solar ERP software should be able to track these resources in real time. Then only it can enable efficient management of these resources.
Requirement: create multiple customized workflows to track the movement of important resources, connect directly to the tools used for tracking these resources – timesheets, inventory system etc.
Simple UI
Real-time tracking of resources can happen only when there are regular updates of material, labor and cash movement going into the ERP system.
But many team members are reluctant to submit regular updates. They see it as burdensome data entry work.
Hence, are further discouraged when they see that the data entry form is a complex ERP page, that needs to be filled out multiple times. They would much rather prefer to update the data in a spreadsheet.
Requirement: spreadsheet based lightweight UI wherever possible, simple, mobile based forms for people on site
Easy access
Most of the solar installation work happens on the site. That is where the project execution teams spend most of their time. Additionally, the sales team is always in the field, meeting with customers and doing site surveys.
In such cases, our solar ERP software should be easily accessed from outside of the office, on mobile devices.
Requirement: mobile friendly UI, should work in low connectivity areas, offline working option
Using Google Drive with customized workflows
Now we know what are really the crucial requirements or expectations from a solar ERP software. Let us now examine, how Google Drive will fit into all these expectations.
Simple lightweight UI
Google Drive comes equipped with powerful spreadsheets and forms. Both these apps can be used as highly user-friendly interfaces for getting regular updates from the solar EPC team.
Google forms are very useful for site surveys to get customer data, documents, site measurements and photos
Google sheets provide a convenient interface for various solar project management processes regular progress updates, BOQ management, budget tracking, etc.
Google forms or sheets can be given to the store managers for regular inventory updates.
Reliable accessibility
All Google Drive apps are mobile friendly. They are either available as native mobile apps – for Google Drive, Sheets, Docs etc. or in the form of highly responsive web pages, as in case of Google forms.
Either way, you can rely on conveniently using Google Drive apps even on your mobile devices.
Furthermore, Google's excellent content delivery network (CDN) also ensures that Google Drive apps work well even with low network bandwidth. Google even allows offline working option for Drive, Sheets, Docs etc.
Built for collaboration
Google Drive is one of the best online collaboration platforms in the world. Together with Gmail, Google Drive apps enable smooth communication and collaboration for solar EPC teams.
Google Drive apps also come equipped other features required for collaboration such as – commenting, sharing, access control, version management etc.
Customized workflows & integration
Each Google Drive app is an excellent work management tool in itself. But these standalone tools cannot be used as ERP solutions.
But the good news is that all Google Drive apps come with a robust set of APIs. We can use these APIs to bind the powerful Google Drive tools together with customized workflows.
These workflows will enable –
tracking of labor, material cashflow
integration of sales, project management, maintenance
connecting the whole organization with predefined access rights and approval framework
All these features together can turn your Google Drive into a strong solution to be used as solar ERP software.
The only question remains – how to connect the Google Drive apps with customized workflows.
Customized Solar ERP software
You can either use a platform like zapier to connect all the Google Drive apps. Or you can use a pre-built solar ERP software customized as per your business reqirements.
It would take a lot of efforts if you decide to bind all the required Google Drive apps with APIs by yourself. Instead, this ERP solution provides an easy framework built on top of Google APIs to connect all the Google Drive tools with customized workflows.
Solar CRM's ERP framework is used to automate your marketing, sales, project management, inventory tracking, procurement management processes within Google Drive.
Online marketing for Solar EPC
You can use SafeMailer's cold email marketing solution for online B2B marketing emails. Cold email automation workflow ensure maximum email deliverability to improve the opening rate and overall success rate for your marketing emails.
Solar CRM also provides automation for your social media promotions. Use this workflow to maximize the engagement and following for your Facebook and LinkedIn pages.
Sales CRM
Our solar CRM solution built in Google Drive, connects your lead generation, site surveys, proposal creation, lead management and sales tracking processes to a centralized CRM dashboard.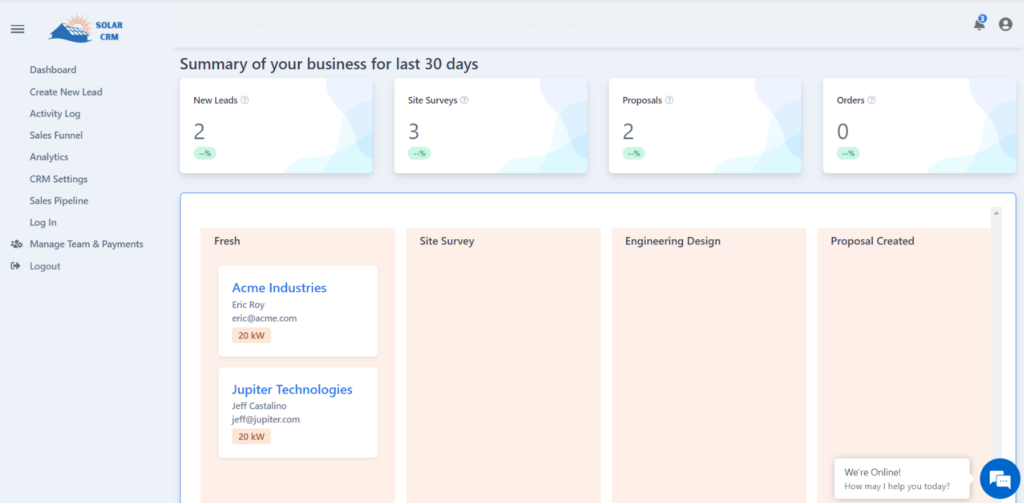 Use this to keep track of your solar sales funnel. Automate time-consuming chores like documentation, solar proposal creation, etc. to make your sales team more productive.
This solar CRM software tracks all your leads and their status in real-time. It also tracks all the important sales actions such as – customer visits, site surveys, follow-ups, etc. Therefore you can also set up an automated email reminder or daily todo list email to be sent to everyone on your sales team. This will ensure they never miss out on any importance actions pending at their end.
Solar Project Management
Solar CRM's project management app helps your track the ground level work being done for all your ongoing project from a central dashboard. This is enabled by connecting by user friendly Google sheets, forms and Gmail.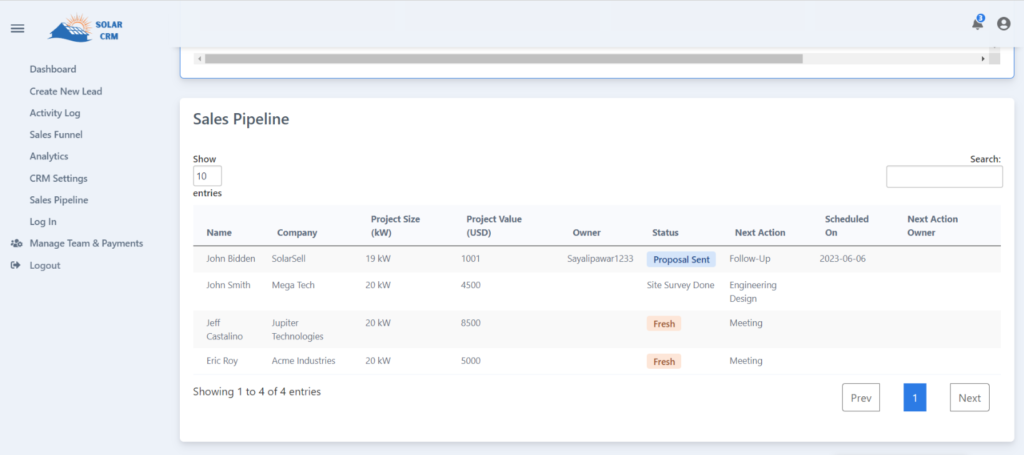 So that your team doesn't feel burdened to do the regular progress reporting and you can get real time view of how your projects are running.
Material Tracking and Procurement Management
You can also automate your material purchase and inventory management workflows on Solar CRM using Google Drive apps.
This solution will enable you to quickly and easily create/upload project BOQs in spreadsheet format. Then you send RFQs, compare quotes, and create purchase orders against the BOQ. You can also define approval workflows, create GRN (Goods Received Note), and track inventory using lightweight, user-friendly Google Drive apps.
These solutions use Google Sheets, Forms, Folders and Gmail as building blocks. They are connected with default ERP workflows which can be further customized to match with the established work practices for your solar installation business.
These apps can be easily combined together to create a single seamlessly connected solar ERP software – with workflows customized for your team. If you're wondering how effective it will be, click here to start a free trial.